TriPort+ (WA58050T)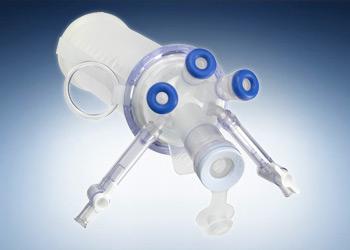 Single Port Surgery Access Devices
TriPort+ (WA58050T)
The Olympus TriPort+ is a minimally invasive, multi-instrument access device designed to facilitate laparo-endoscopic single site (LESS) surgery. Certain laparoscopic procedures can be carried out via a single incision in the abdomen. The TriPort+ contains four instrument ports and two insufflation valves to support a range of four-instrument surgical procedures.
---
Key Benefits
Easy insertion and removal: The introducer tool is designed with a blunt tip allowing safe and easy introduction into the abdominal cavity through a single incision. The retraction sleeve provides wound protection and helps streamline specimen removal. It is self-adjusting to different incision lengths and accommodates abdominal wall thickness up to 10 cm.
Flexible instrument ports: The flexible ports enhance access to the surgical site and accommodate different types and sizes of laparoscopic instruments, including straight, curved, and articulating. Duckbill/lipseal valves allow for the introduction and removal of instruments while maintaining pneumoperitoneum.
Enhanced ports and smoke venting: The low intra-abdominal profile of the port and smoke-venting capability offer excellent visibility. The insufflation connector with stopcocks allows an easy attachment and the control of smoke evaluation.
---
Product Support
Instrument Ports: Four instrument ports (three at 5 mm; one at 10 mm, reducible to 5 mm) enable standard four-instrument single-incision surgeries.
Gas-Tight Valves: The instrument ports are fitted with extra-tight duckbill valves to maintain pneumoperitoneum during the procedure; two insufflation/venting valves allow inflation of abdominal cavity and smoke evacuation.
Internal Anchoring Ring: The internal anchoring ring stays flush against the abdominal wall for rapid visual access.
Removal Ribbon: A removal ribbon enables easy device removal.
Compatibility: The TriPort+ is compatible with HiQ LS Hand Instuments specifically designed for LESS surgery.
Olympus University
Olympus Professional Education also offers training programs through Olympus University (OU). Geared toward nurses, reprocessing technicians and biomeds, many of the OU courses are available for nursing contact hour continuing education credit.
Visit Olympus University
---