The new SOLTIVE™ SuperPulsed Laser systems delivers exceptional performance in a surprisingly small and versatile package.
Olympus pioneered a novel energy source for bringing striking performance compared to high-powered Holmium YAG1
Our urology fibers are the smallest and most flexible fibers at highest power output as compared to market leading urology fibers1
Olympus Total Lithotripsy Solution
Only one company can bring stone management full circle. Treat stones from above with Shockpulse-SE and from below with SOLTIVE SuperPulsed Laser system.
Complete with a convenient cart designed to hold both systems.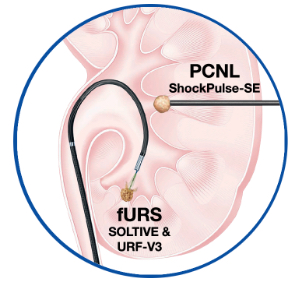 ---
SOLTIVE™ SuperPulsed Laser Technology
Smallest and most flexible fibers at highest power output as
compared to market leading urology fibers2

True-to-size 150u and 200u core diameter fibers for access to hard-to-reach stones.
150u fiber offers 32% more irrigation3 for better visibility.

150u fiber offers better flexibility and minimized scope deflection loss as compared to 200u and larger fibers.
150u fiber can deliver nearly triple the power of competitor's small fibers4.
Effective treatment at lower power means reduced fiber burn back5 and is designed to eliminate the need for multiple fibers or cutting and cleaving of fibers mid-procedure.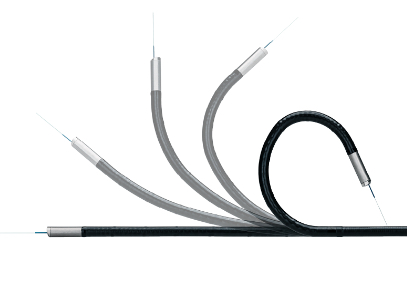 Easy "quick-connect" - no twisting or screwing.
Convenient color coding to easily identify type and size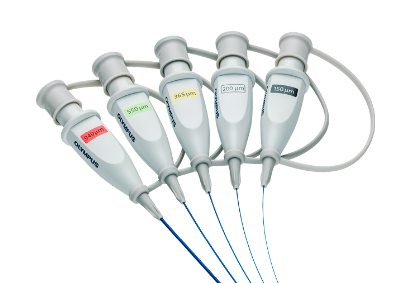 ---
SOLTIVE SuperPulsed
Laser System Premium includes:

2x faster lithotripsy with less power
Incredibly fast dusting, double the speed of leading holmium YAG laser5 with impressive generation of fine particulate.

Highly versatile, all-in-one platform
BPH treatment with state-of-the-art prostate enucleation and visibly improved hemostasis7 for surgery centers seeking all-in-one, cost-effective platform.

Virtually no retropulsion6
Inherent stone stabilizing effect without the need for specialized fibers or costly software upgrades.

1/8th the size of competing systems5
Compact design for greater O.R. efficiency.

Plugs into any standard wall outlet
Because it requires no specialty wiring, SOLTIVE SuperPulsed Laser system can be used in any O.R. suite.

Quiet operation
Cooled by air, and designed with modern components, SOLTIVE SuperPulsed Laser system offers quiet operation and low cost maintenance.
What Your Peers Are Saying
Clinical Information
SOLTIVE SuperPulsed Laser System
Learn from the globally recognized thought leader in Ureteroscopy, Professor Olivier Traxer who outlines the difference between the Holmium technology and new cutting edge TFL technology. See the SOLTIVE SuperPulsed Laser system difference and learn why "this changes everything".
The Future of Lithotripsy: SOLTIVE SuperPulsed Thulium Fiber Laser
Watch Dr. Bodo Knudsen, Director, Comprehensive Kidney Stone Program The Ohio State Wexner Medical Center as he discusses his clinical experience with the next great innovation in Urology surgery.
Redefining Laser Versatility & Performance
What happens when you put the cutting edge of endourology laser technology in the hands of one of the world's most versatile endourologists? Learn from Dr. Mantu Gupta of Mt. Sinai West Hospital in New York City in this webinar where he discusses his experience across stone, BPH & soft tissue cases with the SOLTIVE laser.
Education Opportunities
Olympus Professional Education offers a vibrant and immersive learning experience led by experts in medical technology, procedural innovations, and patient care. Learning and training opportunities include hands-on courses, online learning, lectures and workshops, peer-to-peer training, accredited continuing education, and custom on-demand learning as well as a vast library of educational resources.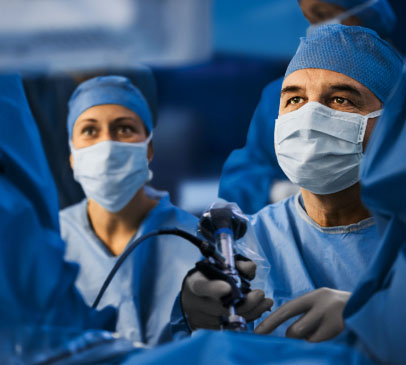 Related Products
The SOLTIVE™ SuperPulsed Laser, powered by a novel energy source, is capable of dusting stones in half the time and fragmenting stones relentlessly with virtually no retropulsion. For effective dusting and fragmentation, the tip of the laser fiber should be directly in contact with the stone. Continuous irrigation should be used to wash away stone fragments and to provide cooling of the treatment site. The use of higher power settings should be avoided, especially when the fiber tip is in close proximity to the ureteral wall, as perforation of the ureter may result. As with non-laser surgery, the possibility of complications and adverse events, such as chills, fever, edema, hemorrhage, inflammation, tissue necrosis, or infection may occur following treatment. In extreme cases, death may occur due to procedural complications, concurrent illness, or laser application. As with any conventional surgery, acute pain may occur immediately following laser therapy and may persist for as long as 48 hours. For further information please refer to the SOLTIVE™ Laser System IFU - PN0015551_AE.
All claims based on non-clinical laboratory testing using synthetic stones (Begostones) in a simulated environment
Data on file. Comparative fiber data collected with Cook 150, Lumenis 230 and EMPOWER 200 core diameter fibers
Compared to 200u fibers. Data on file.
Data on file. Comparative fiber data collected with Cook 150.
Data on file. Comparative laser system data collected on Lumenis P120.
At select settings. Data on file compared to Lumenis P120.
Data on file. Compared to Lumenis P120. Improved hemostasis noted at 365um diameter fibers & larger. Data is not from a clinical Study.
Data on file. Testing conducted with Begostones.