A better workflow meets uncompromising performance.
Your surgical energy device shouldn't slow you down or interrupt your in-procedure momentum. POWERSEAL™ Sealer/Divider is designed to deliver consistently strong vessel sealing throughout the procedure.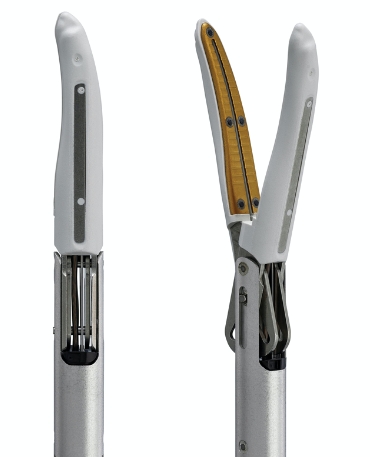 POWERSEAL™ Sealer/Divider provides:
A true curved, tapered, and double-action Maryland dissector/grasper design.
Vessel sealing up to and including 7 mm, including pulmonary vessels, tissue bundles, and lymphatics.3
Significantly better seal integrity performance in side-by-side GLP animal lab testing.3
Fast sealing, with average seal time less than 2.8 seconds on vessels up to 7mm in diameter.6
Efficient and consistent sealing performance through greater sealing length and higher jaw pressure.4
Equivalent tissue sticking resistance when compared to nano-coated LigaSure Maryland jaw due to POWERSEAL's proprietary waveform and jaw construction.5
---
POWERSEAL™ Sealer/Divider was purpose-built to support the variety of ways you use surgical energy.
We started by ensuring the high-quality sealing you expect, and building on a form and function you're already used to, we added both new and more intuitive features:
15% wider jaw aperture than LigaSure Maryland jaw for enhanced grasping & dissection capability.1
Unique latch-on/latch-off setting capability adjusts to your surgical technique & preference.
Off-latch setting provides audible and tactile feedback to signal sufficient jaw pressure to confidently achieve 7mm vessel sealing.
Energy activation without requirement to fully close the jaws facilitates activation on thick tissue or spot coagulation of surface bleeders.
The result is an enhanced surgical energy experience, offering unmatched comfort, efficiency, and performance.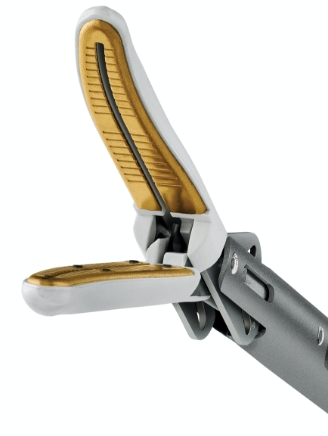 The first thing you'll notice about POWERSEAL™ Sealer/Divider is how good it feels in your hand.
POWERSEAL was rigorously crafted to fit naturally in your hand and deliver an improved experience.

When compared to the LigaSure Maryland Jaw, POWERSEAL Sealer/Divider features:
55% less squeeze force required to close the jaws without sacrificing jaw force or sealing strength.1
Reduced reach distances to device landmarks.1
10% less squeeze force required to actuate cutting blade without sacrificing cutting effectiveness.1
Latch-on option to maintain secure jaw position while grasping and retracting or sealing vessels.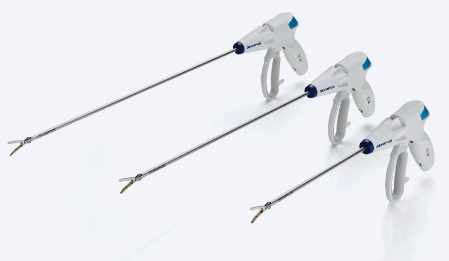 The POWERSEAL™ Sealer/Divider is a bipolar electrosurgical instrument indicated for use in a variety of procedures and specialties, and can be used on vessels up to and including 7 mm, lymphatics, and tissue bundles. The POWERSEAL device is intended for single use only, and has not been shown to be effective for tubal sterilization or tubal coagulation for sterilization procedures. Consult with a qualified professional prior to utilizing on patients who have electronic implants to avoid possible hazard.
1. Internal test report DN0046457.
2. Based on internal test reports, and Acute & Chronic animal studies reports - DN0044705, DN0044706.
3. Based on GLP Acute & Chronic animal studies reports - DN0044705, DN0044706.
4. Based on internal Design Verification electrical & mechanical test reports - DN0046457.
5. Based on internal vessel sealing report - DN0044404.
6. Based on Vessel Sealing Test Method Acute animal study & POWERSEAL 1 Design Verification - DN0009611, DN0044249