THUNDERBEAT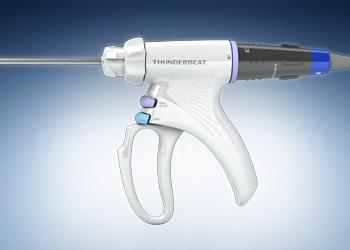 Advanced Energy
THUNDERBEAT
The THUNDERBEAT platform is a revolutionary surgical tissue management system. It is the world's only integration of ultrasonic and advanced bipolar energies delivered through a single multifunctional instrument, allowing a surgeon to simultaneously seal and cut vessels up to and including 7 mm in size with minimal thermal spread. The patented jaw design provides precise, controlled dissection and always available bipolar coagulation without sacrificing grasping ability. THUNDERBEAT is the only surgical tissue management system that delivers every common form of energy used in surgery today (monopolar, bipolar, ultrasonic, and advanced bipolar), as well as the revolutionary combination of advanced bipolar and ultrasonic energies.
---
Key Benefits
Best-in-class performance: THUNDERBEAT delivers fastest-in-class cutting speed, highest-in-class tip grasping force, reliable 7 mm vessel sealing for minimal thermal spread, and precise dissection with its fine jaw design.
Improved procedural efficiency: With always-available bipolar energy for hemostasis without cutting, reduced smoke and mist generation, and a single multifunctional instrument (available in two handle designs and four lengths), THUNDERBEAT is designed to improve procedural efficiency.
---