Welcome to the Press Center
Olympus is a precision technology leader in designing and delivering imaging solutions in healthcare, life science and photography. Through its healthcare solutions, Olympus aims to improve procedural techniques and outcomes, and enhance the quality of life for patients. By providing physicians and the healthcare industry with advanced medical and surgical endoscopy equipment, leading energy and tissue management systems, integrated video and imaging systems, state-of-the-art electronic medical records, and innovative systems integration services, Olympus is transforming the future of healthcare.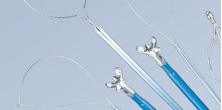 Request an image/video for use on a website, a presentation or an article.