HALO PKS Cutting Forceps (HACF0533)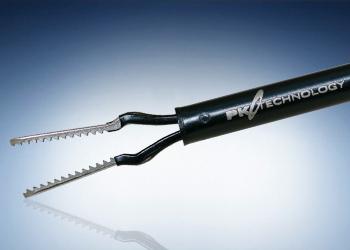 Handpiece
PK Instruments
HALO PKS Cutting Forceps (HACF0533)
The HALO (Hand Activation for Laparoscopy & Open) PKS Cutting Forceps offer exceptional performance and versatility across a wide variety of procedures. The unique, five-in-one design grasps, dissects, coagulates, transects, and retracts tissue all in one easy-to-use device.
---
Key Benefits
Ergonomic cut blade trigger: The trigger is ergonomically positioned to provide easier access with one hand to minimize fatigue.
Hand activated coagulation button: The easy-to-access hand activated coagulation button eliminates the need for a foot pedal and puts control right in the surgeon's hand.
Fingertip rotation control: Rotation wheel provides fingertip control for up to 330° of rotation.
---
Product Support
HALO PKS CUTTING FORCEPS
For use with PK G400 Generator only
HACF0533: HALO PKS™ Cutting Forceps 5 mm, 33 cm
PK G400 GENERATOR
777000: G400 Generator with 9-pin inputs
744010: PK  footswitch
560085-002: Generator power cord
710003: Dual footswitch connector cable
700000: PKS and G400 Generator cart
Olympus University
Olympus Professional Education also offers training programs through Olympus University (OU). Geared toward nurses, reprocessing technicians and biomeds, many of the OU courses are available for nursing contact hour continuing education credit.
Visit Olympus University