ITknife nano Electrosurgical Knife (KD-612L/U)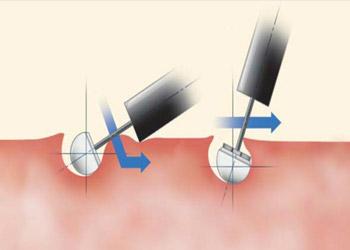 Knives
ESD - Knives
ITknife nano Electrosurgical Knife (KD-612L/U)
The single-use Olympus ITknife nano™ electrosurgical knife features a shorter knife length for better maneuverability in narrow lumens. With a smaller insulated tip and a smaller electrode in the proximal end, the knife is well suited for use in organs with a thinner submucosal layer, such as the esophagus and colon.
---
Key Benefits
Small insulated tip: The small 1.7 mm insulated ceramic tip is easier to slip into the narrow submucosal layer of the esophagus and colon for safe dissection. 
Small disk-shaped electrode: The proximally placed electrode enables accurate spark during incisions and dissections in areas with thin walls, such as the esophagus and colon, and it allows exceptional cutting performance in both vertical and horizontal directions. 
Shorter knife length: The 3.5 mm knife length enables easier maneuverability in the esophagus and colon, where space is tight and narrow.
Product Support
MODEL KD-612L/U
Minimum Channel Diameter: 2.8 mm
Working Length: 165 cm (KD-612L), 230 cm (KD-612U)
Cutting Knife Length: 3.5 mm
Tip Diameter: 1.7 mm
Electrode Diameter: 0.9 mm
For detailed specifications, please contact customer service for assistance.
Olympus University
Olympus Professional Education also offers training programs through Olympus University (OU). Geared toward nurses, reprocessing technicians and biomeds, many of the OU courses are available for nursing contact hour continuing education credit.
Visit Olympus University
---