HookKnife Electrosurgical Knife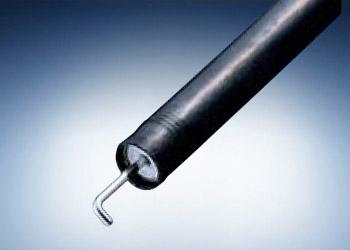 Knives
HookKnife Electrosurgical Knife
The single-use Olympus HookKnife™ electrosurgical knife features a rotatable, L-shaped hook that allows cutting in horizontal and vertical directions. It can be used for both incisions and dissections, and it is ideal for cutting fibrous tissue.
---
Key Benefits
L-shaped hook at distal end: The L-shaped cutting wire is designed to hook tissue and pull it away from the mucosa to minimize the risk of perforation.
Turn and lock design: The turn and lock feature is simple to deploy and ensures the cutting wire is locked at the desired position during every procedure.
Choice of working lengths: A choice of lengths allows the physician to chose a working length based on procedural technique or lesion location.
Product Support
MODELS KD-620LR / KD-620UR
Channel Diameter: 2.8 mm
Working Length: 165 cm / 230 cm
Cutting Knife Length: 4.5 mm
Cutting Knife Diameter: 0.4 mm
Hook Length: 1.3 mm
Use: Single use
For detailed specifications, please contact customer service for assistance.
Olympus University
Olympus Professional Education also offers training programs through Olympus University (OU). Geared toward nurses, reprocessing technicians and biomeds, many of the OU courses are available for nursing contact hour continuing education credit.
Visit Olympus University
---