HD Urology Camera Head (OTV-S7PROH-HD-L08E)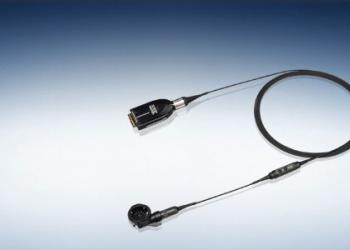 Camera Head
HD Camera Head
HD Urology Camera Head (OTV-S7PROH-HD-L08E)
The Olympus HD Urology Camera Head with HDTV1080i delivers high resolution in an extremely lightweight package to provide unsurpassed detail and color reproduction while minimizing operator fatigue. Patented Narrow Band Imaging (NBI) technology enhances the visibility of vascular structures throughout the urinary tract and HDTV1080i combines vivid visualization and comfortable control. With 1080 scanning lines of picture information, HDTV1080i dramatically expands the clinical possibilities in urology and gynecology.
---
Key Benefits
High resolution: The advanced video chip delivers unsurpassed detail and color reproduction in HDTV1080 quality during HD minimally invasive surgery.
Lightweight body: As the lightest URO HD camera head available, HDTV1080i reduces operator stress and fatigue, even during longer procedures.
Imaging technology:  Narrow Band Imaging (NBI) highlights areas of increased vascularity that are normally hard to see under white light.
Customizable remote control switch:  The conveniently located remote control switch enables easy control of any three functions and reduces the risk of camera shake.
---
Product Support
Olympus Service & Repair
Olympus offers a broad range of services to healthcare professionals and to our customers, including contact hour and peer-based training courses; information, training tools and videos on infection control and reprocessing; authorized repair services and support on Olympus equipment; and financing solutions to help your facility with acquisition of new capital equipment, accessories, and maintenance plans.
Need Help?
Cleaning, Disinfection & Sterilization
The proper cleaning, disinfection, and sterilization of Olympus equipment is equally as important as their proper use. 
Olympus University
Olympus Professional Education also offers training programs through Olympus University (OU). Geared toward nurses, reprocessing technicians and biomeds, many of the OU courses are available for nursing contact hour continuing education credit.
Visit Olympus University