Narrow Band Imaging
The latest technology to fight bladder cancer.
Narrow Band Imaging (NBI®) is the world's only patented endoscopic light technology that enables effective targeting of biopsies not seen under white light without the need for dyes or drugs.
NBI technology enables improved visualization of lesion boundaries in Non-Muscle-Invasive Bladder Cancer (NMIBC) patients.
Studies* have shown that NBI visualized
17% additional patients with NMIBC
24% additional tumors
28% additional Carcinoma in Situ (CIS)
* Based on a weighted average.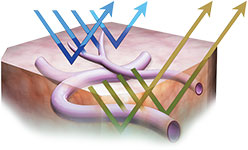 NBI works by filtering white light into specific light wavelengths that are absorbed by hemoglobin providing enhanced visualization of capillary networks and mucosal morphology. NBI is not intended to to replace histopathological sampling as a means of diagnosis.
NBI Clinical Studies:
View Products Featuring NBI
Contact an Olympus Representative