Flexible Cysto-Nephro Fiberscope (CYF-5)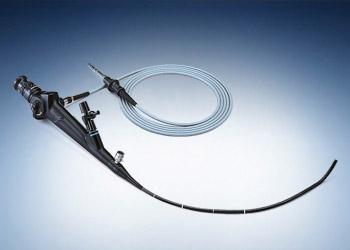 Cystoscope
Flexible
Flexible Cysto-Nephro Fiberscope (CYF-5)
The Olympus CYF-5 flexible cysto-nephro fiberscope delivers high-quality fiber optics in a patient-friendly design. The CYF-5 is both portable and reliable and features the EvolutionTip tapered tip design, a variable stiffness shaft, optimal deflection, and a large field of view.
---
Key Benefits
Portable and reliable: The CYF-5 is specially designed to be used with a conventional tabletop light source or Olympus' portable miniature light source.
Improved patient comfort: The unique EvolutionTip allows smooth insertion, improving the patient's comfort without sacrificing image quality or treatment capabilities. Stiffness is varied to allow the proximal shaft to be stiffer and the mid shaft to be more flexible while the distal end offers passive bending to allow the scope to bend even further.
Product Support
Outer Diameter Insertion Tube:
Olympus Service & Repair
Olympus offers a broad range of services to healthcare professionals and to our customers, including contact hour and peer-based training courses; information, training tools and videos on infection control and reprocessing; authorized repair services and support on Olympus equipment; and financing solutions to help your facility with acquisition of new capital equipment, accessories, and maintenance plans.
Need Help?
Cleaning, Disinfection & Sterilization
The proper cleaning, disinfection, and sterilization of Olympus equipment is equally as important as their proper use. 
Olympus University
Olympus Professional Education also offers training programs through Olympus University (OU). Geared toward nurses, reprocessing technicians and biomeds, many of the OU courses are available for nursing contact hour continuing education credit.
Visit Olympus University
---