ViziShot EBUS Needles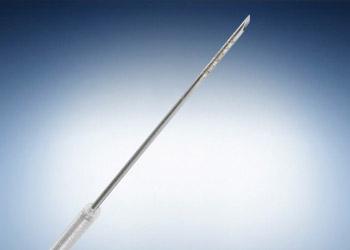 EBUS TBNA Needles
ViziShot EBUS Needles
Single-use Olympus ViziShot Aspiration Needles feature an echogenic dimpled tip design combined with a stopping mechanism for safe, reliable TBNA in the bronchi. Specially designed for use with Olympus EBUS scopes, the needles are available in two sizes. The wider inner diameter of the 21 gauge needle provides extra space for samples while its wider outer diameter delivers additional stiffness for smoother needle penetration. The 22 gauge needle features additional flexibility for better access.
---
Key Benefits
Enhanced ergonomics: The recently introduced 21 gauge needle boasts an improved handle, designed to make movements by the physician or nurse more fluid.
Improved visibility: An enhanced dimpled echogenic tip improves visibility on ultrasound images.
Enhanced Safety Features: Designed to avoid accidental needle protrusion protecting your patient as well as the scope.
---
Product Support
Single-use Olympus ViziShot Aspiration Needles are available in two sizes: 21 gauge (NA-201SX-4021) and 22 gauge (NA-201SX-4022). For more detailed specifications or to determine the appropriate device for your needs, please contact customer service for assistance.
Olympus University
Olympus Professional Education also offers training programs through Olympus University (OU). Geared toward nurses, reprocessing technicians and biomeds, many of the OU courses are available for nursing contact hour continuing education credit.
Visit Olympus University