BF-UC180F EBUS Bronchoscope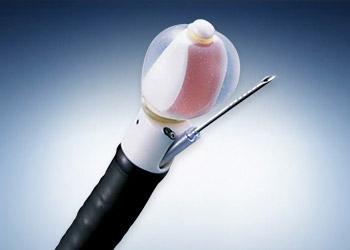 Bronchoscope
BF-UC180F EBUS Bronchoscope
When success hinges on your ability to collect an accurate tissue sample, the Olympus EBUS bronchoscope is the proven choice. The uniquely designed distal rigid tip allows optimal angulation and an improved approach to difficult-to-reach nodal stations such as 4L and 10R. The Olympus BF-UC180F features ultrasound capability with the EU-ME2 and other ultrasound processors from Olympus.
---
Key Benefits
Enhanced observation: A scanning range widened to 60° allows easier orientation or observation of large lesions, and multiple quad-frequencies (5, 7.5, 10, and 12 MHz) allow depth of penetration of the ultrasound image.
Better suction and insertion: With a channel diameter enlarged to 2.2 mm, the BF-UC180F provides better suction capability and smoother needle insertion.
Simplified handling: The BF-UC180F has a detachable ultrasound cable to simplify scope cleaning, reprocessing, and storage, and it also includes Radio Frequency Identification (RFID) for easy tracking.  
---
Product Support
Direction of View:
35 degree forward oblique
Outer Diameter Insertion Tube:
Olympus Service & Repair
Olympus offers a broad range of services to healthcare professionals and to our customers, including contact hour and peer-based training courses; information, training tools and videos on infection control and reprocessing; authorized repair services and support on Olympus equipment; and financing solutions to help your facility with acquisition of new capital equipment, accessories, and maintenance plans.
Need Help?
Cleaning, Disinfection & Sterilization
The proper cleaning, disinfection, and sterilization of Olympus equipment is equally as important as their proper use. 
Olympus University
Olympus Professional Education also offers training programs through Olympus University (OU). Geared toward nurses, reprocessing technicians and biomeds, many of the OU courses are available for nursing contact hour continuing education credit.
Visit Olympus University