SONICBEAT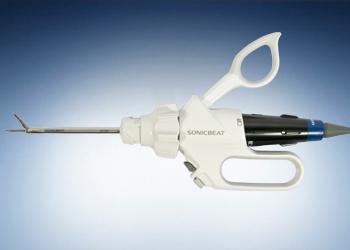 Ultrasonic Energy
SONICBEAT
SONICBEAT is an innovative surgical system delivering rapid cutting and reliable vessel sealing from a single multifunctional hand instrument using ultrasonic energy. The surgical instrument's wiper jaw design distributes pressure evenly along the jaw length for consistent sealing. With excellent tip grasping force, precision dissection via a fine tip design and wide opening aperture, the instrument delivers rapid and precise surgical control.
---
Key Benefits
Exceptional design: SONICBEAT delivers enhanced design features for surgical performance, including a wiper jaw that distributes pressure evenly along the jaw length, excellent tip grasping force, fine tip design, and a wide opening aperture.
Improved procedural efficiency: With precision cutting and vessel sealing via a single multifunctional instrument and an 85% reduction in smoke and mist generation compared to other ultrasonic devices, SONICBEAT is designed to improve procedural efficiency.
Refined surgical control: SONICBEAT is available in two handle designs (inline and pistol grip) and four lengths (10, 20, 35, and 45 cm) with VAR and MAX switches on the handpiece to meet a variety of surgical needs.
Product Support
Olympus Service & Repair
Olympus offers a broad range of services to healthcare professionals and to our customers, including contact hour and peer-based training courses; information, training tools and videos on infection control and reprocessing; authorized repair services and support on Olympus equipment; and financing solutions to help your facility with acquisition of new capital equipment, accessories, and maintenance plans.
Need Help?
Cleaning, Disinfection & Sterilization
The proper cleaning, disinfection, and sterilization of Olympus equipment is equally as important as their proper use. 
Olympus University
Olympus Professional Education also offers training programs through Olympus University (OU). Geared toward nurses, reprocessing technicians and biomeds, many of the OU courses are available for nursing contact hour continuing education credit.
Visit Olympus University
---