Dual-Lumen Ureteral Catheter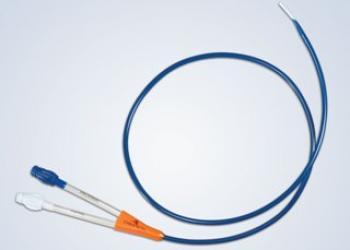 Ureteral Catheters
Dual-Lumen Ureteral Catheter
The Dual Lumen Ureteral Catheter is designed for percutaneous and transurethral access and is indicated as a conduit for multiple uses including, but not limited to, ureteral dilation, stone displacement, delivery of contrast material/anesthetic agents, and guidewire placement.
---
Key Benefits
6 Fr Flexible Tip gradually transitions to 10 Fr body for atraumatic dilation of the ureteral orifice
Kink Resistant Catheter Body designed for easy insertion through difficult anatomy
Colored Luers match distal and proximal lumens for intuitive guidewire placement and contrast injections
---
Product Support
The Olympus Dual Lumen catheter has a 6 Fr tip that gradually transitions to a 10 Fr body to effectively dilate the Ureteral Orifice. For detailed specifications, please contact customer service for assistance.
Olympus Service & Repair
Olympus offers a broad range of services to healthcare professionals and to our customers, including contact hour and peer-based training courses; information, training tools and videos on infection control and reprocessing; authorized repair services and support on Olympus equipment; and financing solutions to help your facility with acquisition of new capital equipment, accessories, and maintenance plans.
Need Help?
Olympus University
Olympus Professional Education also offers training programs through Olympus University (OU). Geared toward nurses, reprocessing technicians and biomeds, many of the OU courses are available for nursing contact hour continuing education credit.
Visit Olympus University