CleverCut2V and 3V Sphincterotomes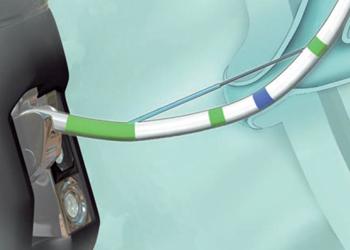 Sphincterotome
CleverCut2V and 3V Sphincterotomes
Single-use Olympus CleverCut2V and 3V Double and Triple Lumen Sphincterotomes deliver exceptional cutting performance and easy, fast exchange capability for enhanced efficiency in ERCP sphincterotomy. Designed to work with the Olympus V-System, each sphincterotome includes an integrated C-Hook, V-Sheath, and V-Markings. The CleverCut2V provides efficient cannulation capability with two stiffening wires that provide stable cannulation and orientation. The CleverCut3V offers excellent orientation and smooth injection. Since the injection lumen and the guidewire lumen are completely separate, contrast media can be smoothly injected with a guidewire in place.
---
Key Benefits
CleverCut coating for enhanced safety: Unique coating on the proximal end of the cutting wire minimizes damage to the surrounding tissue
Pre-curved tip for optimal insertion: The distal ends of the sphincterotomes are pre-curved to achieve stable cannulation capability. This distal configuration also facilitates easy positioning of the knife into the papilla.
Excellent visibility under fluoroscopy: Radiopaque markings ensure that the tip is clearly visible under fluoroscopy.
Product Support
Olympus CleverCut2V and 3V Sphincterotomes are available in a variety of tip designs and cutting wire lengths to meet every clinical requirement. 
For detailed specifications, view the Endoscopic Devices Product Catalog or please contact customer service for assistance.
Olympus University
Olympus Professional Education also offers training programs through Olympus University (OU). Geared toward nurses, reprocessing technicians and biomeds, many of the OU courses are available for nursing contact hour continuing education credit.
Visit Olympus University
---