Ultra-Catch NT No-Tip Nitinol Basket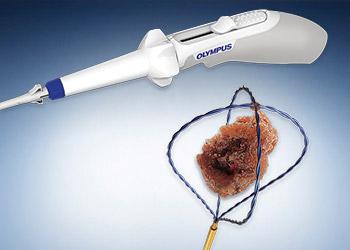 Stone Retrieval
Ultra-Catch NT No-Tip Nitinol Basket
Olympus Ultra-Catch NT- No Tip Nitinol Baskets are uniquely designed to provide exceptional control and facilitate easy stone capture. The twisted wire cage design with the patented no-tip disc maintains shape in even the most challenging cases while the round nitinol wires minimize tissue trauma during use in restricted spaces. The user friendly, ergonomic handle provides single handed rotation with an intuitive basket actuation to improve efficiency.
---
Key Benefits
Four-wire basket design:  Allows for easy capture and release of stones.
Twisted-wire cage:  Highly-durable and maintains shape and form even under extreme duress.
Atraumatic distal disc tip:  Minimizes tissue trauma during manipulation in restricted spaces. 
Polymer sheath with highly flexible distal end:  Provides durability while eliminating sheath compression or stretching with full scope deflection.
Torque responsive shaft and ergonomic handle:  Control and security to ensure safe and effective stone removal.
---
Product Support
Olympus retrieval products deliver precise control and versatile performance, helping to simplify stone removal while minimizing patient trauma, reducing procedure times, and improving patient outcomes. The broad array of Olympus retrieval products are designed to meet the unique challenges presented by each patient and each case. For detailed specifications or to determine the appropriate device for your needs, please contact customer service for assistance, online or by phone 1-800-387-0437.
| | |
| --- | --- |
| Product Code | Product Description |
| NT4W18115 | 1.8 Fr 4 wire Nitinol no tip basket |
| NT4W22115 | 2.2 Fr 4 wire Nitinol no tip basket |
| NT4W30115 | 3.0 Fr 4 wire Nitinol no tip basket |
Olympus University
Olympus Professional Education also offers training programs through Olympus University (OU). Geared toward nurses, reprocessing technicians and biomeds, many of the OU courses are available for nursing contact hour continuing education credit.
Visit Olympus University