Guide Sheath Kit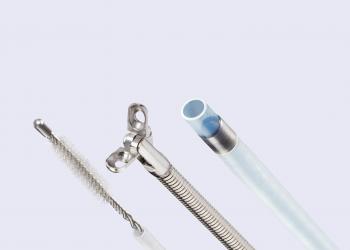 Endoscopic Devices
Guide Sheath Kit
The Olympus Guide Sheath Kit is designed to function as an extended working channel and to increase diagnostic yield of peripheral lesions. It includes a guide sheath, biopsy forceps, and a cytology brush. The Guide Sheath Kit is available in multiple configurations for both large and small diameter scopes.
---
Key Benefits
Efficient: The Guide Sheath Kit is designed to enhance procedural efficiency.  Once positioned at the target site, the guide sheath acts like an extended working channel, allowing safe and repeated access to the lesion for sampling. 
Versatile: The Guide Sheath Kit can be used with Olympus radial EBUS probes for more precise sampling of peripheral pulmonary lesions.  The kit is available in multiple configurations for use in scopes with 2.0 mm or 2.6 mm working channels.
Cost effective: When compared to other options, the Guide Sheath Kit provides a cost-efficient, effective solution for accessing peripheral pulmonary lesions.
---
Product Support
Model Name
K-201
K-202
K-203
K-204
Compatible Channel Diameter
2.0 mm
2.6 mm
Set Content
Guide Sheath
SG-200C
SG-200C
SG-201C
SG-201C
Maximum outer diameter
1.95 mm
2.55 mm
Working length
105 cm
Biopsy Forceps
FB-233D
FB-233D
FB-231D
FB-231D
Maximum outer diameter
1.5 mm
1.9 mm
Working length
115 cm
Cup configuration
Standard, fenestrated
Cytology Brush
BC-204D-2010
-
BC-202D-2010
-
Maximum outer diameter
1.4 mm
1.8 mm
Working length
115 cm
Brush diameter
2.0 mm
Brush length
10 mm
ET Stopper
3 pcs (white)
3 pcs (2 pcs: gray / 1 pc: white)
US Stopper
1 pc (white)
1 pc (gray)
Olympus Service & Repair
Olympus offers a broad range of services to healthcare professionals and to our customers, including contact hour and peer-based training courses; information, training tools and videos on infection control and reprocessing; authorized repair services and support on Olympus equipment; and financing solutions to help your facility with acquisition of new capital equipment, accessories, and maintenance plans.
Need Help?
Cleaning, Disinfection & Sterilization
The proper cleaning, disinfection, and sterilization of Olympus equipment is equally as important as their proper use. 
Olympus University
Olympus Professional Education also offers training programs through Olympus University (OU). Geared toward nurses, reprocessing technicians and biomeds, many of the OU courses are available for nursing contact hour continuing education credit.
Visit Olympus University