SmoothShot TBNA - Single Use (NA-401D-1521)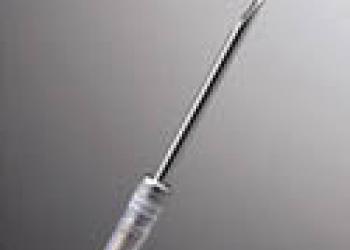 Needles
TBNA Needles
SmoothShot TBNA - Single Use (NA-401D-1521)
The single-use Olympus NA-401D-1521 SmoothShot Aspiration Needle is a 21-gauge, 15 mm length needle with a 115 cm working length.
---
Key Benefits
Smooth needle movement: The needle's sophisticated design delivers smooth transbronchial needle aspiration and puncture performance, and the shorter, ridged distal portion of the needle allows smooth movement, even when the scope is angulated.
Endoscope compatibility: Superb endoscope compatibility and a unique stainless steel sheath protect the biopsy channel during insertion.
Product Support
Olympus University
Olympus Professional Education also offers training programs through Olympus University (OU). Geared toward nurses, reprocessing technicians and biomeds, many of the OU courses are available for nursing contact hour continuing education credit.
Visit Olympus University