Video Rhinolaryngoscope (ENF-VH)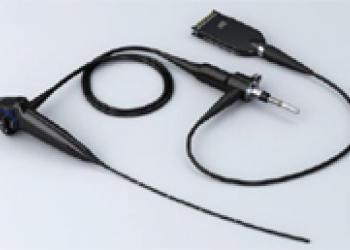 Laryngoscope
Video Laryngoscope
Video Rhinolaryngoscope (ENF-VH)
The Olympus ENF-VH video rhinolaryngoscope delivers high-definition imaging in a flexible endoscope with a small outside diameter. With exceptional luminosity, a wide 110° field of view, and Narrow Band Imaging (NBI) for enhanced observation of blood vessels and mucosal morphology, the ENF-VH sets a new standard in rhinolaryngoscopy.
---
Key Benefits
Exceptional luminosity: Although it has a small 3.9 mm outside diameter, the scope still illuminates a broad area, providing a detailed image of any lesions within the field of view. This exceptional luminosity is especially useful when observing with NBI.
Wide field of view: With HD resolution and exceptional illumination, every corner of the field can be thoroughly inspected with the scope's wide 110° field of view.
---
Product Support
Outer Diameter Insertion Tube:
Olympus Service & Repair
Olympus offers a broad range of services to healthcare professionals and to our customers, including contact hour and peer-based training courses; information, training tools and videos on infection control and reprocessing; authorized repair services and support on Olympus equipment; and financing solutions to help your facility with acquisition of new capital equipment, accessories, and maintenance plans.
Need Help?
Cleaning, Disinfection & Sterilization
The proper cleaning, disinfection, and sterilization of Olympus equipment is equally as important as their proper use. 
Olympus University
Olympus Professional Education also offers training programs through Olympus University (OU). Geared toward nurses, reprocessing technicians and biomeds, many of the OU courses are available for nursing contact hour continuing education credit.
Visit Olympus University