Fiber Rhinolaryngoscope (ENF-XP)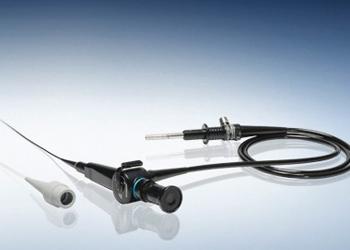 Laryngoscope
Fiberscope
Fiber Rhinolaryngoscope (ENF-XP)
The Olympus ENF-XP fiber rhinolaryngoscope features an ultra-slim insertion tube diameter and generous 130° angulation range (up and down). Its high-resolution optics, brightness, and slim design make the ENF-XP the optimal choice for observing narrow upper airway passages in both adults and children.
---
Key Benefits
Easy insertion: An ultra-slim 2.2 mm diameter ensures easy insertion into narrow upper airway passages and is optimally sized for observation of smaller nasal cavities, making it particularly well suited for pediatric procedures. 
Enhanced maneuverability: With an angulation range of 130° both up and down, the ENF-XP assists with trouble-free insertion and enhances scope maneuverability.
---
Product Support
Outer Diameter: 18mm (Distal tip)
Angulation (up/down): 130°/130°
Working Length: 300mm
Olympus Service & Repair
Olympus offers a broad range of services to healthcare professionals and to our customers, including contact hour and peer-based training courses; information, training tools and videos on infection control and reprocessing; authorized repair services and support on Olympus equipment; and financing solutions to help your facility with acquisition of new capital equipment, accessories, and maintenance plans.
Need Help?
Cleaning, Disinfection & Sterilization
The proper cleaning, disinfection, and sterilization of Olympus equipment is equally as important as their proper use. 
Olympus University
Olympus Professional Education also offers training programs through Olympus University (OU). Geared toward nurses, reprocessing technicians and biomeds, many of the OU courses are available for nursing contact hour continuing education credit.
Visit Olympus University