Flexible Hysteroscope (HYF-V)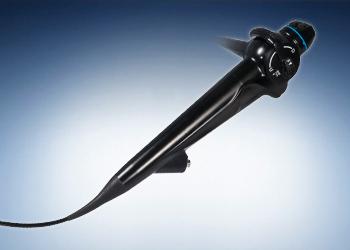 Hysteroscope
Video Hysteroscope
Flexible Hysteroscope (HYF-V)
The Olympus HYF-V flexible, digital hysterovideoscope features an ultra-slim outer diameter, allowing easy access to the uterine cavity. Its small size and ergonomic grip allow single-handed manipulation.
---
Key Benefits
Excellent visualization: The HYF-V delivers color-consistent, moire-free, crystal clear images.
Wide field of view: The 120° field of view helps capture both tubal openings, and two-way angulation facilitates visualization of the entire uterine cavity.
Slim design: The scope's ultra-slim 3.8 mm diameter allows easy access to the uterine cavity and includes a 1.2 mm channel.
Product Support
Outer Diameter Insertion Tube:
Olympus Service & Repair
Olympus offers a broad range of services to healthcare professionals and to our customers, including contact hour and peer-based training courses; information, training tools and videos on infection control and reprocessing; authorized repair services and support on Olympus equipment; and financing solutions to help your facility with acquisition of new capital equipment, accessories, and maintenance plans.
Need Help?
Cleaning, Disinfection & Sterilization
The proper cleaning, disinfection, and sterilization of Olympus equipment is equally as important as their proper use. 
Olympus University
Olympus Professional Education also offers training programs through Olympus University (OU). Geared toward nurses, reprocessing technicians and biomeds, many of the OU courses are available for nursing contact hour continuing education credit.
Visit Olympus University
---