HiQ+ Hand Instruments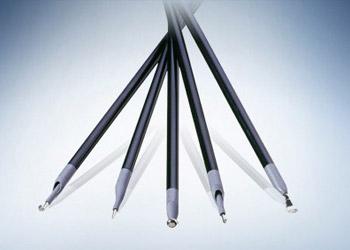 Handles & Instruments
HiQ+ Hand Instruments
HiQ+ Hand Instruments feature exceptional strength, durability, and ergonomics for ideal functioning as an extension of the surgeon's hands for outstanding control. The large array of instruments in the HiQ+ series features bipolar and monopolar hand instruments, monopolar HF electrodes, a modular suction and irrigation system, and needle holders to meet a wide variety of surgical needs. HiQ+ reusable hand instruments are all autoclavable, requiring only steam sterilization.
---
Key Benefits
HiQ+ Monopolar and Standard: Tailored to be an ideal extension of the surgeon's hands, this series delivers strong but precise jaws control for grasping, cutting, and dissecting, a streamlined handle for a perfect fit, and multiple hand positions for continuously changing surgical needs.
HiQ+ Bipolar: This series combines the safety benefits of bipolar technology with the precision and tactility of monopolar hand instruments. HiQ+ Bipolar Hand Instruments are designed for safe and reliable coagulation as well as strong grasping and dissecting. 
HiQ+ Suction and Irrigation: Optimized for streamlined flow throughout all components, from inflow to outflow, the HiQ+ Suction and Irrigation system enables enhanced passage of immersed blood clots or stones for clog-free operation. With a range of suction/irrigation tubes, this modular system offers tailored solutions for a variety of laparoscopic procedures and anatomies. 
HiQ+ Needle Holders: Designed for optimal grasping strength, accuracy, durability, and ergonomics, these autoclavable needle holders and knot pushers are available with three interchangeable jaws and a modular design for easy assembly, disassembly, and cleaning.
HiQ+ Autoclavability: All reusable HiQ+ Hand Instruments are autoclavable, designed to withstand the demands of sterilization and disinfection and deliver reprocessing cost efficiencies as well.
Product Support
The HiQ+ Hand Instrument series features bipolar and monopolar hand instruments, monopolar HF electrodes, a modular suction and irrigation system, needle holders, and other devices to meet a wide array of surgical needs. For detailed specification or to determine the appropriate instrument for your needs, please contact customer service for assistance.
Olympus Service & Repair
Olympus offers a broad range of services to healthcare professionals and to our customers, including contact hour and peer-based training courses; information, training tools and videos on infection control and reprocessing; authorized repair services and support on Olympus equipment; and financing solutions to help your facility with acquisition of new capital equipment, accessories, and maintenance plans.
Need Help?
Cleaning, Disinfection & Sterilization
The proper cleaning, disinfection, and sterilization of Olympus equipment is equally as important as their proper use. 
Olympus University
Olympus Professional Education also offers training programs through Olympus University (OU). Geared toward nurses, reprocessing technicians and biomeds, many of the OU courses are available for nursing contact hour continuing education credit.
Visit Olympus University