Coagrasper Hemostatic Forceps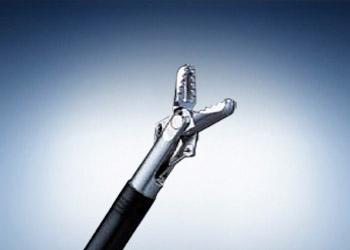 Hemostatic Grasper
Coagrasper Hemostatic Forceps
The single-use Olympus Coagrasper Hemostatic Forceps delivers targeted monopolar coagulation that will create hemostasis at the precise site of bleeding. A combination mechanical and energy-based hemostasis device, the Coagrasper will isolate the vessel from healthy surrounding mucosa so that thermal coagulation occurs only where you need it. The Coagrasper is available in two size options for use in both the upper and lower GI tracts.
---
Key Benefits
Improved grasping: The forceps' anti-slip jaw design facilitates grasping the tissue to provide mechanical tamponade and to isolate the vessel from healthy mucosa prior to thermal application.
Efficient thermal therapy: The forceps' large surface is designed for evenly dispersed distribution of thermal therapy and the targeted current flow provides direct coagulation.
Unrestricted open/close functionality: The forceps can be opened and closed numerous times to economically treat multiple bleeding sites in a single patient.
Product Support
Models: FD-411UR, FD-410LR, FD-412LR
Energy: Monopolar
Opening Width: 4 mm, 5 mm
Working Lengths: 230 cm, 165 cm
Maximum Diameter: 2.75 mm
Compatible Channels: 3.2 mm, 2.8 mm
Use: Single use
Olympus University
Olympus Professional Education also offers training programs through Olympus University (OU). Geared toward nurses, reprocessing technicians and biomeds, many of the OU courses are available for nursing contact hour continuing education credit.
Visit Olympus University
---