Cleaning Brushes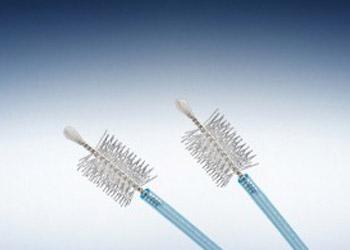 Brushes
Cleaning Brushes
Olympus Cleaning Brushes were developed with the same exacting precision as Olympus endoscopes to deliver proven cleaning performance every time. Olympus offers a wide range of cleaning brushes to meet every scope cleaning need. Designed for superior compatibility with Olympus scope channels, Olympus cleaning brushes facilitate maximum cleaning performance. Olympus cleaning brushes are available in both single-use and reusable/autoclavable designs in a wide variety of sizes and configurations.
Product Support
Olympus Cleaning Brushes are available in a wide array of configurations and sizes. 
For detailed specifications, view the Endoscopic Devices Product Catalog or please contact customer service for assistance.
Olympus University
Olympus Professional Education also offers training programs through Olympus University (OU). Geared toward nurses, reprocessing technicians and biomeds, many of the OU courses are available for nursing contact hour continuing education credit.
Visit Olympus University