Cytology Brushes with Uncovered Sheath - Single Use (BC-201C-1006)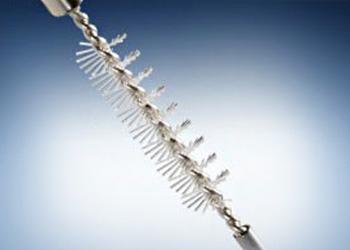 Brushes
Cytology Brush
Cytology Brushes with Uncovered Sheath - Single Use (BC-201C-1006)
Single-use Olympus Cytology Brushes with Uncovered Sheaths are compatible with bronchoscopes with a minimum channel diameter of 1.2 mm. They provide the ideal brush hardness for improved specimen collection with thinner bristles. A thicker control wire with increased warp resistance provides improved insertion capability and easier brushing.
Product Support
MODEL BC-201C-1006
Style: Uncovered sheath
Working Length: 105 cm
Brush Length/Outer Diameter: 6.0/1.0 mm
Bristle Diameter: 0.12 mm
Minimum Channel Size: 1.2 mm
Package: 6 per box, sterile
Use: Single use
Olympus Service & Repair
Olympus offers a broad range of services to healthcare professionals and to our customers, including contact hour and peer-based training courses; information, training tools and videos on infection control and reprocessing; authorized repair services and support on Olympus equipment; and financing solutions to help your facility with acquisition of new capital equipment, accessories, and maintenance plans.
Need Help?
Cleaning, Disinfection & Sterilization
The proper cleaning, disinfection, and sterilization of Olympus equipment is equally as important as their proper use. 
Olympus University
Olympus Professional Education also offers training programs through Olympus University (OU). Geared toward nurses, reprocessing technicians and biomeds, many of the OU courses are available for nursing contact hour continuing education credit.
Visit Olympus University