Stiff WIre Basket (FG-402Q)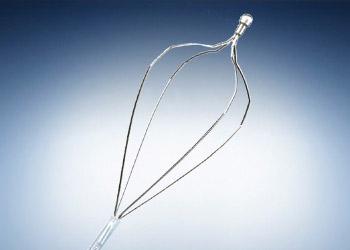 Basket
Foreign Body Retrieval
Stiff WIre Basket (FG-402Q)
The single-use Olympus Stiff Wire Basket features a bullet-shaped tip and stiff wire for easy insertion. The basket is a four-wire design that is compatible with a minimum channel size of 2.8 mm.
Product Support
MODEL FG-402Q
Working Length: 195 mm
Opening Width: 22 mm
Minimum Channel Size: 2.8 mm
Compatible Scopes: GIF, TJF, JF
Package: 1 per box, sterile
Use: Single use
For detailed specifications, view the Endoscopic Devices Product Catalog or please contact customer service for assistance.
Olympus University
Olympus Professional Education also offers training programs through Olympus University (OU). Geared toward nurses, reprocessing technicians and biomeds, many of the OU courses are available for nursing contact hour continuing education credit.
Visit Olympus University