Olympus Introduces World's Only Forward-Viewing Curvilinear Ultrasound Gastrovideoscope
TGF-UC180J Provides the Potential for New Opportunities
in EUS-Guided Treatment of Diseases in the GI Tract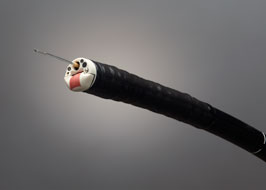 CENTER VALLEY, Pa., October 9, 2013 – Olympus, a precision technology leader in designing and delivering innovative solutions in the medical and surgical field, among other core businesses, announced today the launch of its 510(k) cleared and world's only forward-viewing curvilinear ultrasound gastrovideoscope.
The advanced design of Olympus' new EUS scope with forward-viewing optics makes it an ideal interventional tool. The design of the scope is significant because it provides a reduced distal tip length compared to its oblique-viewing counterparts. The combination of a shorter tip with wider angulation capabilities (180 degrees up) delivers enhanced maneuverability and handling. In addition, the scope's straight channel enables therapeutic devices to be delivered directly (or head on) to the target site, potentially providing easier access to regions of interest.
The scope's enhanced maneuverability and handling offers the potential to improve visualization of fundus diseases, which can be challenging to view and diagnose. In addition, an auxiliary water jet potentially provides better acoustic coupling as well as savings in accessory costs by eliminating the need for a balloon.
"The forward-viewing therapeutic echoendoscope is a major advance for interventional endoscopy," said Dr. Kenneth Binmoeller, Medical Director of the Interventional Endoscopy Service (IES) at California Pacific Medical Center. "It is the first true 'hybrid' ultrasound endoscope, enabling both ultrasound and endoscopy-guided interventions with the same instrument. This will facilitate existing EUS-guided therapies, such as pseudocyst drainage, as well as enable new EUS-guided treatments."
The TGF-UC180J is powered by the new, next-generation ProSound F75 Ultrasound Imaging Platform, developed in partnership by Hitachi Aloka Medical, Ltd., which aids in more accurate diagnosis of diseases and cancers of the GI track and surrounding organs. The scope is also backward compatible with prior generation processors, including the Olympus EU-ME1 and Hitachi Aloka SSD-α10.
"We are pleased to introduce this newest advance in EUS technology," said Luke Calcraft, President of the Medical Systems Group at Olympus Corporation of the Americas. "The TGF-UC180J has the potential to pave the way for new EUS-guided treatments and assist healthcare facilities in their efforts to meet the triple aim of Affordable Care through advanced diagnostic and therapeutic capabilities, clinical and cost efficiencies, and less invasive interventions for treatment of diseases and cancers in the GI tract."
Olympus is a pioneer of endoscopic ultrasound (EUS), which combines ultrasound technology with endoscopy to better visualize the tissues of the digestive tract and adjacent anatomical structures inside the human body. Conventional ultrasound is performed by placing a transducer against the skin to produce images of internal organs.  With EUS, the transducer is endoscopically inserted into the body via the digestive tract, putting it closer to the region of interest to obtain higher resolution images.
The demand for minimally invasive procedures continues to grow with the introduction of more advanced technologies. Over 250,000 EUS outpatient procedures were performed in the United States in 2011 (Truven Health[i]) with a 6% compound annual growth rate for the next 5 years (The Advisory Board Company).
The advanced design of the TGF-UC180J scope can help healthcare providers address the key requirements of healthcare reform, including:
Increased Quality of Care – EUS drives optimal patient outcomes through easy identification and more accurate staging of diseases and cancers in the GI tract.
Decreased Costs – Interventional procedures can be performed in the GI suite which saves OR time. In addition, the forward-viewing scope does not require a balloon, reducing accessory expenditures.
Enhanced Patient Satisfaction – EUS offers patients a less invasive treatment compared to surgical interventions, and procedure times may be shorter.
The TGF-UC180J ultrasound gastrovideoscope will be showcased on October 13-15, 2013, at the ACG 2013 Annual Scientific Meeting, which will be held in San Diego, CA. Physicians are invited to visit booth #1027 to further explore the benefits of the new forward-viewing scope technology.
For more information or to evaluate the TGF-UC180J ultrasound gastrovideoscope, please contact your Olympus representative or call 800-848-9024.
About Olympus Medical Systems Group
Olympus Medical Systems Group, a division of global technology leader Olympus, develops solutions for healthcare professionals that help improve clinical outcomes, reduce overall costs and enhance quality of life for their patients. By enabling less invasive procedures, innovative diagnostic and therapeutic endoscopy, Olympus is transforming the future of healthcare.
For more information, visit Olympus at www.medical.olympusamerica.com.
Media Contact
Michael Levey, Olympus, 484-896-5120, michael.levey@olympus.com
---
[i] Data for use in this study were supplied by Truven Health Analytics Inc., Ann Arbor, Michigan ("Truven Health"). Any analysis, interpretation or conclusion based on these data is solely that of the authors and Truven Health disclaims responsibility for any such analysis, interpretation or conclusion.