Olympus Canada Recognized as a Greater Toronto Top Employer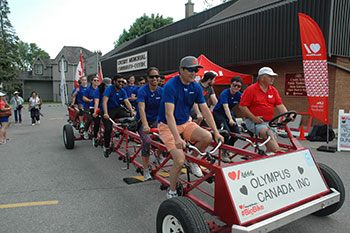 Olympus Canada employees participate in the Big Bike event to support the Heart and Stroke Foundation of Canada.
Olympus Canada Recognized as a Greater Toronto Top Employer
CENTER VALLEY, Pa., (December 7, 2018) – Olympus, a global technology leader in designing and delivering innovative solutions for medical and surgical procedures, among other core businesses, announced today that Olympus Canada has been named one of Greater Toronto's Top Employers for the third year running. The award recognizes key employee benefits that support education, health, and families, including generous tuition subsidies, health spending accounts, and maternity and paternity leave for new parents.
"Our business is looking after society's health, safety and ultimately life's fulfillment," said Bill Collins, President and CEO of Olympus Canada. "In order to do that well, we have to look after the health and well-being of our employees, which is a responsibility we take very seriously. We are proud to receive this recognition of our efforts for a third year in a row."
Shaila Sachedina, Accounting Manager at Olympus Canada, says the Olympus mission inspires her to give more, and she sees that motivation in her team members. "The team's attitude is, 'what can we do and how can we help?' It's really nice to work with a group of people who care about what they're doing."
The Greater Toronto's Top Employers competition recognizes employers with exceptional human resources programs and forward-thinking workplace policies. Editors at Mediacorp grade employers on eight criteria: (1) Physical Workplace; (2) Work Atmosphere & Social; (3) Health, Financial & Family Benefits; (4) Vacation & Time-Off; (5) Employee Communications; (6) Performance Management; (7) Training & Skills Development; and (8) Community Involvement. Employers are compared to other organizations in their field to determine which offer the most progressive and forward-thinking programs.
Olympus employee benefits considered for the award include the work-from-home option for some employees, tuition subsidies of up to $5,250 per year and subsidies for professional accreditation, two days paid leave a year for employees who want to volunteer with a nonprofit organization, and matching charitable donations of up to $2,000.
To learn more about Olympus Canada, please call 1-800-848-9024 or visit us at http://www.olympuscanada.com/
# # #
About Olympus Canada
Olympus is a global technology leader, crafting innovative optical and digital solutions in medical technologies; life sciences; industrial solutions; and cameras and audio products. Throughout our nearly 100-year history, Olympus has focused on being true to society and making people's lives healthier, safer and more fulfilling. Olympus Canada Inc. (OCI) manages the Company's operations and workforce throughout Canada in sales, marketing, service, and support functions. Based in Richmond Hill, ON, and recognized as one of Greater Toronto's Top Employers in 2017 and 2018, OCI is committed to developing our employees and supporting our local communities. Visit olympuscanada.com and truetolife.com.