ENDOALPHA SmartGuide
ENDOALPHA SmartGuide
Perfecting the Art of OR Integration
Olympus ENDOALPHA™ delivers a truly integrated solution for today's healthcare facilities, created to increase efficiency and improve the ergonomics, communication and information systems for medical teams in any endoscopy suite or operating room.
ENDOALPHA SmartGuide navigation, featuring the HomeScreen and SceneSelection, revolutionizes the way surgeons and nurses interact with technology in the OR.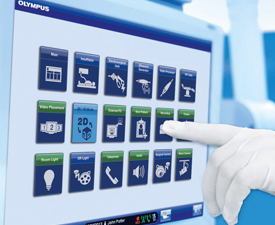 HomeScreen
The Olympus HomeScreen models the convenient smart phone through the simple, intuitive use of apps.  The new HomeScreen provides seamless and unified system control on a single touch panel and allows quick identification of functions.  No function is more than a single click away which improves workflow and reduces complexity of operating multiple devices. HomeScreen apps include functions such as video placement and streaming, recording and medical device control, including support of Olympus' new 3D endoscopy system.  Both your medical and peripheral device control is housed on a single, universal screen, which remains consistent regardless of the room configuration.  Navigating the OR has never been so easy.
"Our goals were to improve information control and increase efficiency, and the ENDOALPHA solution helped us achieve both. Our surgeons are no longer just engaged, they are in charge during both surgery and laparoscopy procedures, and we continue striving to achieve the best clinical outcomes possible for our patients."
--Gerald Harkins, M.D., Medical Director, Minimally Invasive Gynecologic Surgery, Penn State Milton S. Hershey Medical Center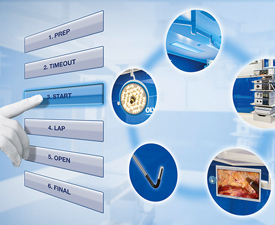 SceneSelection
With a single button click, SceneSelection allows users to simultaneously control multiple device settings.  Rather than moving from device to device to navigate procedures, all settings for each procedure phase are preprogrammed and accessible with a single click of a button. ENDOALPHA SceneSelection supports the standardization of OR procedures, reduces user errors, reduces preparation and set-up time and increases efficiency all through pre-programmed device settings.
ENDOALPHA SmartGuide truly makes navigating the OR easier than it's ever been before.
Additional features of the ENDOALPHA system include: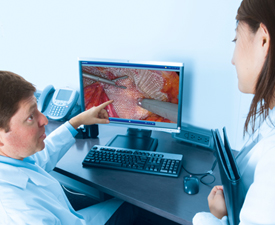 Video Management
Live and stored images and video for sharing throughout the hospital and beyond
Have a perfect view, wherever you are...
Custom-placed displays help ensure team members always have an optimal view of live HD images. Going beyond the OR, ENDOALPHA creates a fully integrated video network that lets you share and collaborate with ease from just about anywhere – endoscopy rooms, lecture halls, doctors' offices, even other campuses. ENDOALPHA allows you to share, teach, and collaborate like never before. Nurse managers can monitor room progress from a centralized monitor and medical students can observe and participate in procedures without ever entering the OR.
Documentation
Sharing data seamlessly between your HIS, PACS and the OR during procedures
Don't miss a thing...
ENDOALPHA allows easy storage and archiving of HD video captured during procedures without ever leaving the OR. With ENDOALPHA, users can create a reliable archive for reference, collaboration and teaching purposes. Even video conferences can be recorded with a combined audio/video stream for reference.
"The advanced, user-friendly technology and high-definition imaging offered by Olympus' ENDOALPHA were very important to us. But it was the outstanding service that convinced us to choose the ENDOALPHA solution for this project."
--Susan Comp, Director of Surgical Services, PinnacleHealth Surgical Services, Harrisburg, PA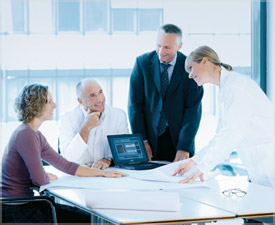 Project Management
Total support, from initial planning to installation, ensuring a smooth and successful process
Engaged in the building of your new OR...
Our team can help you analyze your specific facility requirements to present a well thought-out and detailed plan tailored to your OR and staff. Leaving nothing to chance, we'll answer all the questions necessary to create the ideal OR environment. ENDOALPHA Project Managers are your one-point contact, managing all parties involved to ensure a fast and smooth installation.
"It was amazing to see all the technology come together in one room and to have such a complicated conglomeration of differing instruments coordinated in one easy-to-use unit. I never expected that life in the OR could be so easy. This room has solved many of our previous technology problems"
--Neil Floch, M.D., Director of Minimally Invasive Surgery, Norwalk Hosptial, Fairfield County, Connecticut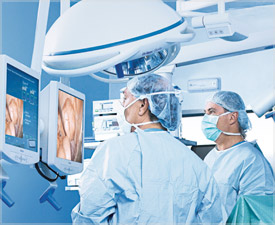 Workspace Design
With our highly dedicated team of design engineers, Olympus offers a variety of facility layout designs, conduit drawings, system drawings and environmental specs to the customer's project. Communication and follow up with their Facility Project Manager is a priority for a successful room layout.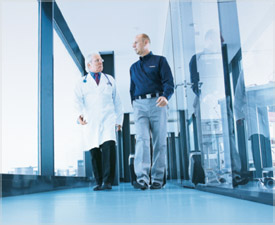 Service Solutions
Ensure maximum uptime and a long system life with service plans that work
Understanding our solutions can enhance your success...
Our team is ready to serve you. With a national service team and toll-free Technical Assistance Center, Olympus is dedicated to your needs and available to provide assistance, train a new hire, or upgrade your system. Offering a variety of service plans to choose from, each is designed to provide you with peace of mind and the appropriate level of maintenance and support.