CyberWand Dual Ultrasonic Lithotriptor System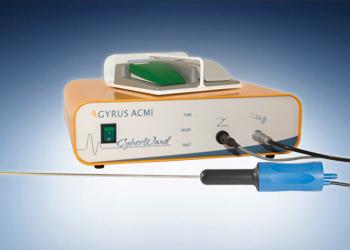 Lithotripsy
Dual Action Lithotriptor
CyberWand Dual Ultrasonic Lithotriptor System
The Olympus CyberWand™ Dual Ultrasonic Lithotriptor System uses a dual probe set to produce ultrasonic lithotripsy with an intermittent impact action. It is able to fragment the hardest stones and the largest stone burdens efficiently in far shorter times than single action devices. Simultaneous suction through the probe set evacuates debris, leaving the patient stone-free.
---
Key Benefits
Rapid Fragmentation: Dual lithotripsy using both ultrasonic and mechanical energy rapidly fragments stones of all types with minimal damage to surrounding tissue. 
Procedural efficiency: In combination with its simple setup and operation, the use of the single probe and integrated suction helps expedite procedures, trims OR time and reduces overall costs.
Easy operation: CyberWand is both simple to set up and easy to operate.
---
Product Support
Olympus Service & Repair
Olympus offers a broad range of services to healthcare professionals and to our customers, including contact hour and peer-based training courses; information, training tools and videos on infection control and reprocessing; authorized repair services and support on Olympus equipment; and financing solutions to help your facility with acquisition of new capital equipment, accessories, and maintenance plans.
Need Help?
Cleaning, Disinfection & Sterilization
The proper cleaning, disinfection, and sterilization of Olympus equipment is equally as important as their proper use. 
Olympus University
Olympus Professional Education also offers training programs through Olympus University (OU). Geared toward nurses, reprocessing technicians and biomeds, many of the OU courses are available for nursing contact hour continuing education credit.
Visit Olympus University