Fiber Rhinolaryngoscope (ENF-T3)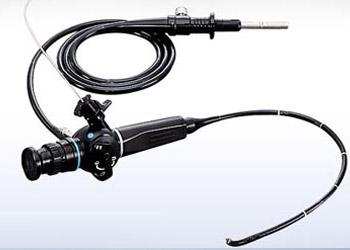 Laryngoscope
Rhinolaryngoscope
Fiber Rhinolaryngoscope (ENF-T3)
The Olympus ENF-T3 rhino-laryngo fiberscope features a generous working channel and a thin outer diameter, making it ideally suited for therapeutic interventions, such as biopsy, aspiration, and removal of foreign bodies. Its slim outer diameter allows applications to be performed under local anesthesia, and its long 365 mm working length can reach difficult-to-access areas for biopsy.
---
Key Benefits
Superior access: With a tip angulation range of 130° up and down along with superior optics, the ENF-T3 provides good visual access, and the 365 mm working length enables biopsies even in difficult-to-access regions.
Therapeutic capabilities: With a 2.2 mm working channel, the scope can accommodate a wide range of endoscopic devices for therapeutic interventions.
Product Support
Outer Diameter Insertion Tube:
Olympus Service & Repair
Olympus offers a broad range of services to healthcare professionals and to our customers, including contact hour and peer-based training courses; information, training tools and videos on infection control and reprocessing; authorized repair services and support on Olympus equipment; and financing solutions to help your facility with acquisition of new capital equipment, accessories, and maintenance plans.
Need Help?
Cleaning, Disinfection & Sterilization
The proper cleaning, disinfection, and sterilization of Olympus equipment is equally as important as their proper use. 
Olympus University
Olympus Professional Education also offers training programs through Olympus University (OU). Geared toward nurses, reprocessing technicians and biomeds, many of the OU courses are available for nursing contact hour continuing education credit.
Visit Olympus University