Fiber Rhinolaryngoscope (ENF-GP)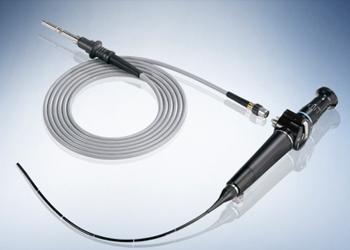 Laryngoscope
Portable Rhinolaryngoscope
Fiber Rhinolaryngoscope (ENF-GP)
The Olympus ENF-GP fiber rhinolaryngoscope delivers large, bright, high-resolution images in a portable design for improved diagnoses. An improved light distribution system provides enhanced illumination, and the fiberscope can be used with either a standard light guide cable or with the EndoLED advanced miniature light source. The EndoLED provides enormously bright and whitish light to ensure clear visualization of the vocal cords in any setting.
---
Key Benefits
Portable design: The all-in-one design of the ENF-GP makes it highly portable, and it can be used with a standard light guide cable or with the EndoLED miniature light source.
Bright images: The combination of a high optical fiber count in the ENF-GP along with its compatibility with the EndoLED miniature light source provides very bright images for clear visualization of the vocal cords.
Light guide compatible: The ENF-GP is compatible with light guides for use with different kinds of stationary light sources.
---
Product Support
Outer Diameter: 3.4mm (distal tip)
Angulation (up/down): 130°/130°
Working Length: 300mm
Field of View: 85°
Depth of Field: 5-50mm

Olympus Service & Repair
Olympus offers a broad range of services to healthcare professionals and to our customers, including contact hour and peer-based training courses; information, training tools and videos on infection control and reprocessing; authorized repair services and support on Olympus equipment; and financing solutions to help your facility with acquisition of new capital equipment, accessories, and maintenance plans.
Need Help?
Cleaning, Disinfection & Sterilization
The proper cleaning, disinfection, and sterilization of Olympus equipment is equally as important as their proper use. 
Olympus University
Olympus Professional Education also offers training programs through Olympus University (OU). Geared toward nurses, reprocessing technicians and biomeds, many of the OU courses are available for nursing contact hour continuing education credit.
Visit Olympus University