EVIS EXERA II (GIF-H180J)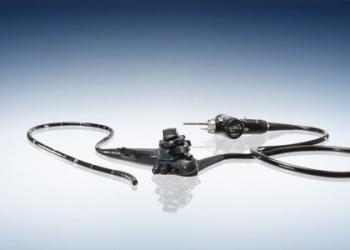 Gastroscope
HD Video
EVIS EXERA II (GIF-H180J)
The EVIS EXERA II GIF-H180J gastroscope offers the best combination of image quality and convenience in an upper GI scope. With its ultra-high-quality HDTV image and support for Narrow Band Imaging (NBI), as well as its Close Focus optical system, the GIF-H180J excels in terms of image quality. What sets the GIF-H180J apart from other HDTV gastroscopes is the addition of a forward water jet function in a 9.9 mm outer diameter scope, giving endoscopists the ultimate in convenience and clinical value for EGD procedures.
---
Key Benefits
Superior image quality and observation: An HDTV-compatible CCD chip delivers sharp images to help physicians provide accurate screening and diagnosis, and a Close Focus optical system allows detailed observation without electronic magnification.
Narrow Band Imaging: NBI capabilities enhance observation of capillary and mucosal structures.
Forward water jet: An auxiliary water channel flushes out blood and mucus inside the upper gastrointestinal tract, helping to ensure a clear view at all times.
Slim design: With a 9.9 mm diameter distal end and insertion tube, the scope delivers excellent insertion capability.
Product Support
Outer Diameter Insertion Tube:
Olympus Service & Repair
Olympus offers a broad range of services to healthcare professionals and to our customers, including contact hour and peer-based training courses; information, training tools and videos on infection control and reprocessing; authorized repair services and support on Olympus equipment; and financing solutions to help your facility with acquisition of new capital equipment, accessories, and maintenance plans.
Need Help?
Cleaning, Disinfection & Sterilization
The proper cleaning, disinfection, and sterilization of Olympus equipment is equally as important as their proper use. 
Olympus University
Olympus Professional Education also offers training programs through Olympus University (OU). Geared toward nurses, reprocessing technicians and biomeds, many of the OU courses are available for nursing contact hour continuing education credit.
Visit Olympus University
---