Flexible Video Ureteroscope (URF-V2)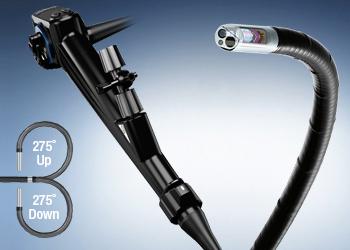 Video Ureteroscope
Flexible Video Ureteroscope (URF-V2)
The URF-V2 achieves a new standard in smooth insertability and high image quality. As slim as a fiberscope, yet with the image quality of a videoscope, every feature contributes to this scope's versatile performance. Improved visualization, facilitated maneuverability and reduced operator stress are now within reach.
---
Key Benefits
Chip-on-the-tip micromini CCD ensures significantly high image quality and produces a large image, which supports detailed and precise observation.
Narrow Band Imaging (NBI) enhances visualization of the capillary network and mucosal morphology.
Increased up/down angulation of 275°, combined with higher flexibility of the distal end, greatly improves access to targets in the renal calyces.
Product Support
Outer Diameter Insertion Tube:
Olympus Service & Repair
Olympus offers a broad range of services to healthcare professionals and to our customers, including contact hour and peer-based training courses; information, training tools and videos on infection control and reprocessing; authorized repair services and support on Olympus equipment; and financing solutions to help your facility with acquisition of new capital equipment, accessories, and maintenance plans.
Need Help?
Cleaning, Disinfection & Sterilization
The proper cleaning, disinfection, and sterilization of Olympus equipment is equally as important as their proper use. 
Olympus University
Olympus Professional Education also offers training programs through Olympus University (OU). Geared toward nurses, reprocessing technicians and biomeds, many of the OU courses are available for nursing contact hour continuing education credit.
Visit Olympus University