EVIS EXERA (LTF-160)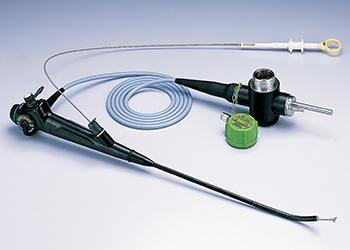 Pleuravideoscope
EVIS EXERA (LTF-160)
The slim, semi-rigid design of the EVIS EXERA LTF-160 pleuravideoscope simplifies and streamlines medical thoracoscopy under local anesthesia. A large 2.8 mm treatment channel enables minimally invasive, single port thoracoscopy, and high-quality imaging and a two-way flexible tip facilitates accurate visualization inside the pleural cavity. An autoclavable design ensures percutaneous procedures can be performed with confidence, and the LTF-160 is compatible with laser treatment as well as electrocautery devices.
---
Key Benefits
Minimally invasive medical thoracoscopy: With a two-way flexible tip and a generous 2.8 mm instrument channel, the LTF-160 allows full visual inspection of the pleural cavity and the ability to aspirate pleural effusions, all through a single port.
Outstanding image quality: The high-resolution video imaging system provides sharp, clear images, enhancing efficiency and helping to improve patient safety.
Autoclavable design: Steam sterilization ensures percutaneous procedures can be performed with confidence using the LTF-160.
Product Support
Outer Diameter Insertion Tube:
Olympus Service & Repair
Olympus offers a broad range of services to healthcare professionals and to our customers, including contact hour and peer-based training courses; information, training tools and videos on infection control and reprocessing; authorized repair services and support on Olympus equipment; and financing solutions to help your facility with acquisition of new capital equipment, accessories, and maintenance plans.
Need Help?
Cleaning, Disinfection & Sterilization
The proper cleaning, disinfection, and sterilization of Olympus equipment is equally as important as their proper use. 
Olympus University
Olympus Professional Education also offers training programs through Olympus University (OU). Geared toward nurses, reprocessing technicians and biomeds, many of the OU courses are available for nursing contact hour continuing education credit.
Visit Olympus University