VISERA Transnasal Esophagovideoscope (PEF-V)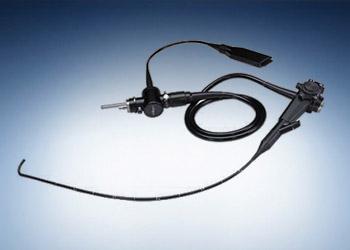 Esophagoscope
Video Esophagoscope
VISERA Transnasal Esophagovideoscope (PEF-V)
The VISERA PEF-V transnasal esophagovideoscope was created for in-office, unsedated esophagoscopy. The PEF-V features color-consistent, high-resolution images, a large 2 mm treatment channel, and superb performance in an ergonomic design. With a tip diameter measuring just 5.3 mm, the PEF-V enables smooth insertion without sedation, and its wide field of view and angulation range make orientation in the aerodigestive tract easier.
---
Key Benefits
Unrivaled image quality: Images are color-consistent, moiré-free, and clearer than ever before for enhanced diagnostic and therapeutic capabilities.
Digital recording capabilities: Used in combination with the VISERA video system, PEF-V allows digital capture of still and moving images, making documentation and image management easier than ever before. 
Ergonomic design: An ergonomically designed control section provides comfort and control for easier handling and smoother operation.
---
Product Support
Outer Diameter Insertion Tube:
Olympus Service & Repair
Olympus offers a broad range of services to healthcare professionals and to our customers, including contact hour and peer-based training courses; information, training tools and videos on infection control and reprocessing; authorized repair services and support on Olympus equipment; and financing solutions to help your facility with acquisition of new capital equipment, accessories, and maintenance plans.
Need Help?
Cleaning, Disinfection & Sterilization
The proper cleaning, disinfection, and sterilization of Olympus equipment is equally as important as their proper use. 
Olympus University
Olympus Professional Education also offers training programs through Olympus University (OU). Geared toward nurses, reprocessing technicians and biomeds, many of the OU courses are available for nursing contact hour continuing education credit.
Visit Olympus University