EVIS EXERA (BF-MP160F)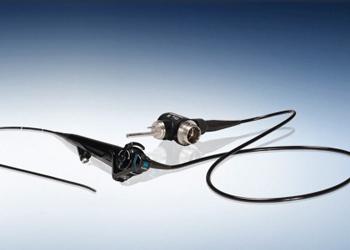 Bronchoscope
Hybrid Bronchoscope
EVIS EXERA (BF-MP160F)
The EVIS EXERA BF-MP160F bronchofibervideoscope is a truly versatile hybrid scope, featuring an innovative design that takes advantage of both video and fiber-optic technologies to produce a scope with a narrow insertion tube and improved imaging. With a narrow distal end diameter of just 4.0 mm, it is ideal for use as diagnostic tool, and its enhanced functionality is especially useful for transbronchial lung biopsy, cytology brushing under fluoroscopy, and other advanced techniques.
---
Key Benefits
Improved scope maneuverability: Its lighter design and improved ergonomics make the BF-MP160F ideal for maneuvering effectively in the peripheral bronchi. It also offers excellent instrumentation capability for transbronchial lung biopsy and cytology brushing under fluoroscopy.
Large diameter channel to accommodate endoscopic devices: At 2.0 mm in diameter, the BF-MP160F's inner channel is extremely large in proportion to its outer diameter and can accommodate a wide variety of endoscopic devices.
Superior Imaging: With a CCD built into the control section, the BF-MP160F delivers images that are sharper, clearer, and larger than possible with a standard fiberscope.
---
Product Support
Outer Diameter Insertion Tube:
Olympus Service & Repair
Olympus offers a broad range of services to healthcare professionals and to our customers, including contact hour and peer-based training courses; information, training tools and videos on infection control and reprocessing; authorized repair services and support on Olympus equipment; and financing solutions to help your facility with acquisition of new capital equipment, accessories, and maintenance plans.
Need Help?
Cleaning, Disinfection & Sterilization
The proper cleaning, disinfection, and sterilization of Olympus equipment is equally as important as their proper use. 
Olympus University
Olympus Professional Education also offers training programs through Olympus University (OU). Geared toward nurses, reprocessing technicians and biomeds, many of the OU courses are available for nursing contact hour continuing education credit.
Visit Olympus University