Airway Mobilescope (MAF-GM/TM)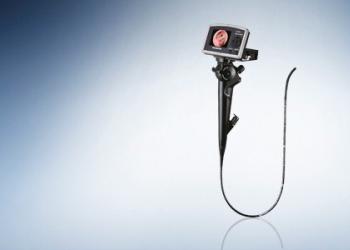 Intubation Endoscope
Airway Mobilescope (MAF-GM/TM)
The Olympus MAF-GM Airway Mobilescope is ideal for intubation and offers expanded viewing and recording capabilities in a convenient stand-alone design. Versatile and user-friendly, the MAF-GM is an all-in-one mobile endoscope that enables efficient airway management. With a 2.5" monitor, white LED light source, battery, and recording device in a single unit, this scope enables observation without peripherals or cables, allowing it to be used almost anywhere.
---
Key Benefits
Thin design for intubation: The small 4.1 mm insertion tube diameter on the MAF-GM makes it ideally suited for intubation. It provides a path into the airway for endotracheal tube placement.
Versatile design: Equipped with a 5.2 mm insertion tube and 2.6 mm diameter working channel, the MAF-TM can support suction, BAL, and instrument use.
Visual confirmation during placement: Featuring a 2.5" monitor, the MAF-GM offers portable visualization of tracheal anatomy during endotracheal (ET) intubation with standard, adult-sized ET tubes.
Portable recording: The MAF-GM/TM's recording device allows capture of still images and movie recordings as well as image management.
Product Support
Outer Diameter Insertion Tube:
Olympus Service & Repair
Olympus offers a broad range of services to healthcare professionals and to our customers, including contact hour and peer-based training courses; information, training tools and videos on infection control and reprocessing; authorized repair services and support on Olympus equipment; and financing solutions to help your facility with acquisition of new capital equipment, accessories, and maintenance plans.
Need Help?
Cleaning, Disinfection & Sterilization
The proper cleaning, disinfection, and sterilization of Olympus equipment is equally as important as their proper use. 
Olympus University
Olympus Professional Education also offers training programs through Olympus University (OU). Geared toward nurses, reprocessing technicians and biomeds, many of the OU courses are available for nursing contact hour continuing education credit.
Visit Olympus University